Posted by Daniel Pishock on Feb 18th 2016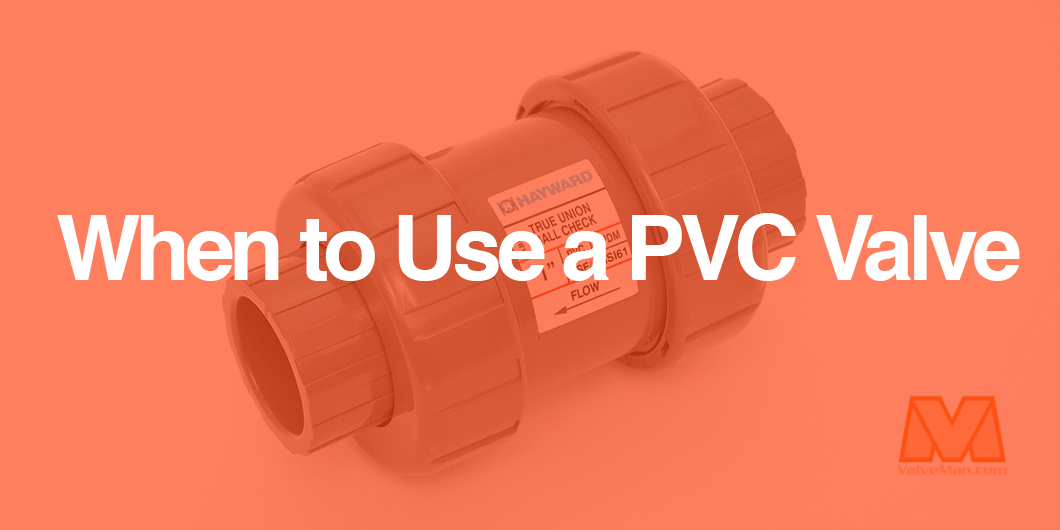 PVC is simply an acronym for polyvinyl chloride, a blend of synthetic material that, in its completed state, is not only structurally integral, but is also fairly corrosive resistant. A PVC valve, then, is nothing more than a valve made from this same material. Since there are piping systems made from other materials besides metals, it only makes sense to incorporate valves that are made from the same material as the rest of the system.
Thermoplastics
Also called synthetic resins, most types of plastic fit into one of either of two categories: 1) " thermosetting," which, once hardened, remains in that state, and can not be melted again--making them ideal for higher working temperatures--and therefore can not be recycled efficiently; 2) thermoplastic resins, on the other hand, are eco-friendly, because they are less heat resistant, and can be reshaped through melting.
PVC is a thermoplastic. It is impact resistant, chemically resistant, is recyclable, and PVC is produced in an eco-friendly manner. Because of its fairly low cost as well as its ability to be remolded or reshaped, it is an ideal material for piping systems and valves made of alternate substances. One of the greatest advantages of PVC is in its ease of use--it requires no welds or solder, and it is far lighter than any metal. PVC is used extensively in home building trades for plumbing purposes but is found in industrial applications as well. In fact, it has been integrated into a variety of industries like pool and spa, electric cable installation, even furniture and clothing. That valve on the water cooler at work? That's PVC.
PVC Valve Uses
Wherever a PVC piping system is being utilized, you will undoubtedly see a valve or two made of the same material. One place you might see this is on a swimming pool, another might be under your kitchen sink. Although extensively used in residential applications, PVC valves are just as common on an industrial level. Construction and other building trades rarely use metallic piping any more, since PVC is lighter and cheaper. Another industry that employs PVC is chemical production. Transfer of chemicals may require piping systems made out of materials which will neither corrode nor react negatively to certain fluids or other materials.
PVC accounts for over 66% of the materials used in the water distribution field. Wherever there is a pipe, there will undoubtedly be a valve. Ball valves, check valves, gate valves, and butterfly valves, etc. are all available in PVC constructions, in various configurations, to compliment any PVC piping system.
Shop PVC Valves at ValveMan.com
With virtually limitless uses for PVC piping systems, there is an equally limitless variety of PVC valves--of shapes, sizes, and configurations. If you need to purchase some PVC valves, you won't need to look high and low for a supplier, just call us- ValveMan.com. Our valve store knows all about PVC valves, because we've been in the valve business for over 50 years. We sell quality, industrial grade valves. In fact, all we sell are valves. It's simply what we do, and we do it better than anyone else.