Posted by Daniel Pishock on Sep 12th 2016
Choosing the perfect Apollo 3 way valve is easy! Renowned as a world class leader in valve technology, and with the backing of over 9 decades of experience in valve innovation and superior manufacturing, Apollo Valve offers an awesome selection of 3-way valves. They've made finding the one for your application simple.
Apollo 3 Way Valves
The purpose of a 3-way valve is to change or divert the direction of media flow, as in from or to, one destination or another. Ball valves make it all possible, and Apollo 3-way ball valves are the perfect choice. Flow can be stopped in one pipe, while allowed in another. Some 3-way valves can also sometimes be used as mixing valves--the application range of 3-way valves is practically limitless. The following describes four 3-way configured ball valves available from Apollo.
Apollo 70-600: This Apollo 3-way valve is a bronze, 2-piece body utilizing NPT Threaded Connections. Features include Blow-out proof B16 Brass Stem; B16 Brass Gland Nut; MPTFE Stem Packing; Reinforced RPTFE Stem Bearing; Chrome Plated B16 Brass Ball; PTFE Seals. 1/4" to 1" sizes use B16 Brass Retainer; 1.25" to 2" use a B584-C84400 retainer. Lever and Lever Nut are Zinc Plated Steel w/yellow vinyl cover.
Apollo 70-900: Virtually the same as the 70-600 Series, except this Apollo 3-way valve utilizes easy to install Soldered End Connections. Standard Port; used as Diversion Valve; Maximum Working Pressure 400psig; Maximum Temperature 500° F; Bronze, 2-Piece Housing. Chrome Plated B16 Brass Ball. Zinc plated Stainless Steel Lever and Nut.Yellow vinyl handle grip.
Apollo 76-600: Investment Cast Stainless Steel Body, this Apollo 3-way valve meets both NACE MRO175 and MRO103 (2000 and 2012, respectively) standards. FNPT Threaded Connections. Full Port. Maximum Working Pressure 800psig CWP; Working Temperature between 0-400° F. MPTFE Stem Packing; RPTFE Stem Bearing; A276-316 Blow-out Proof Stem and Nut; Seats (2) RPTFE. Yellow vinyl handle grip.
Apollo 76-648-27: 2" Bronze, Full Port, 3-way Diversion Valve. Features ISO 5211 (F07) 4-Bolt Mounting for Actuator. Includes Blow-out Proof Stainless Steel Stem; MPTFE Stem Packing and Seats (2); Adjustable Packing Gland(ASTM B16); Stainless Steel Stop, Locking Latch Lever, and Nut and Ball. Connections are NPT Threaded. Retainer material is ASTM B584 C84400. Rated for both Gas and Liquids. Yellow vinyl handle grip.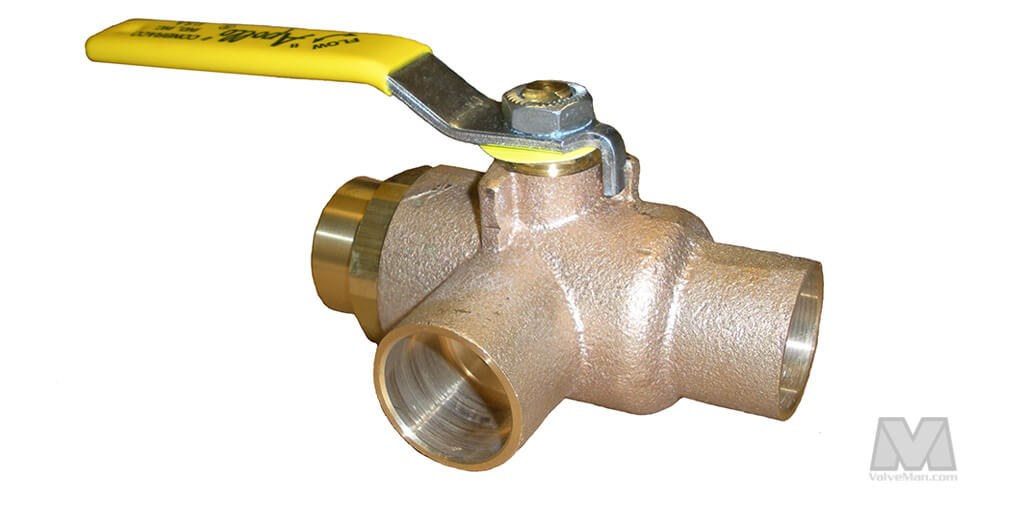 ---
Shop Apollo 3 Way Valves
[RelatedProducts:604,1805,80,1526]
---
The Perfect Apollo 3 Way Valve
You can find the perfect Apollo 3 way valve right here. Just one of the many select brands of industrial grade valves we carry, the Apollo brand offers you the very best choices in 3 way valves. You can learn more about Apollo valves by browsing our website, where you will find Why Choose Apollo Ball Valves and other informative articles to help you choose the perfect Apollo 3 way valve, and any other valve for any application you may need.