Posted by Daniel Pishock on Feb 22nd 2017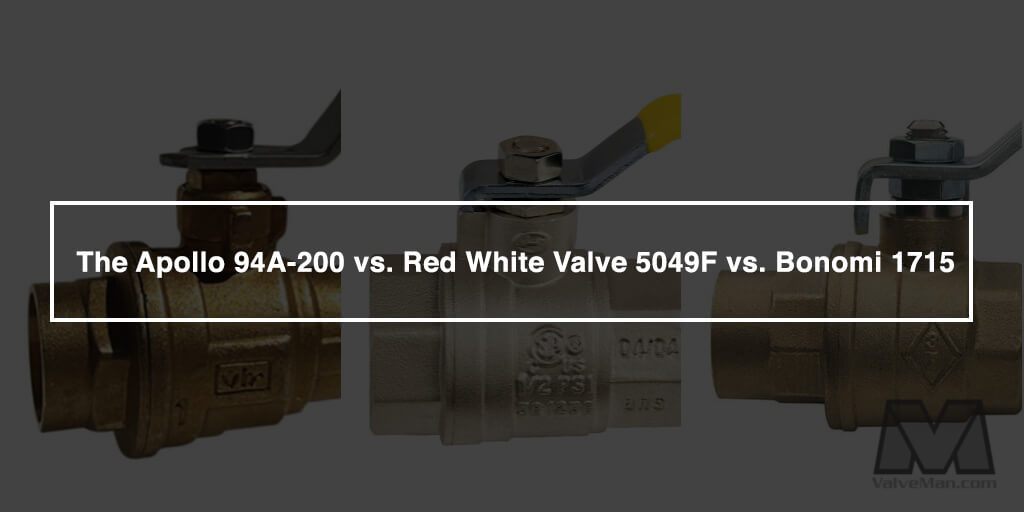 When comparing the Apollo 94A-200 vs. the Red-White Valve 5049F vs. the Bonomi 1715, it's important to keep in mind that each of these valve is of exceptional quality. Each of these brass, 2-ways are competitively priced, produced by well known manufactures, and are ruggedly constructed of high grade, high quality materials. At first glance these valves seem virtually identical. While all three valves are suited for similar applications, each one may have an advantage over the other, making it right or wrong for your purposes. However, choosing the best one may still prove to be a difficult decision.
The Line Up in Comparison
Apollo 94A-200: This forged brass body, 2-way ball valve features full port, socket weld connections, and a chrome-plated brass ball. The blow-out proof stem is also made of chrome-plated brass, while the lever style handle and handle nut are made from steel, and coated with corrosion resistant plating, and yellow PVC handle cover. This valve also features an adjustable stem packing nut, brass packing gland, NBR stem seal, and PTFE seat ring and friction washer. Available in sizes 1/2" to 4", this valve is perfect for HVAC, gas, or plumbing applications. Max pressure range up to 600 CWP. Max temperature between 0° and 400°Fahrenheit. Weights range from 0.33lbs to 16.85lbs.
Red White Valve 5049F: The Red White model also features a forged brass body, a chrome-plated brass ball, blow-out proof stem, and an adjustable packing nut. Available in sizes 3/8" through 4", this solder end, full port, 2-way valve comes with a brass packing nut and stem, features a geomet plated steel handle (with vinyl handle cover) and a zinc plated handle nut. Seat material is PTFE and packing is graphite. Pressure temperature rating runs between 600psi up to 160°F, and 150psi (Max) at 366°F. Weights run between 0.29lbs and 17.31lbs. Surprisingly, the Red White 5049F runs about a dollar more than the Bonomi and Apollo valves.
Bonomi 1715: Brass, 2-way ball valve with full port solder end connections. This heavy-duty valve utilizes a blow-out proof brass stem, adjustable stem packing, chrome-plated brass ball and brass packing gland. NBR "O" ring, PTFE thrust washer and stem seat, steel handle (with vinyl cover) and nut. This Bonomi model is available in sizes 1/2" through 4". Pressure rating between 600 WOG and 150 WSP, and a maximum working temp of 366°F. Of the three name brands, the Bonomi 1715 is the heaviest, with starting weights at 0.50lbs up to 24.83lbs.

---
Shop These Valves on Our Site
[RelatedProducts:102,1287,1452]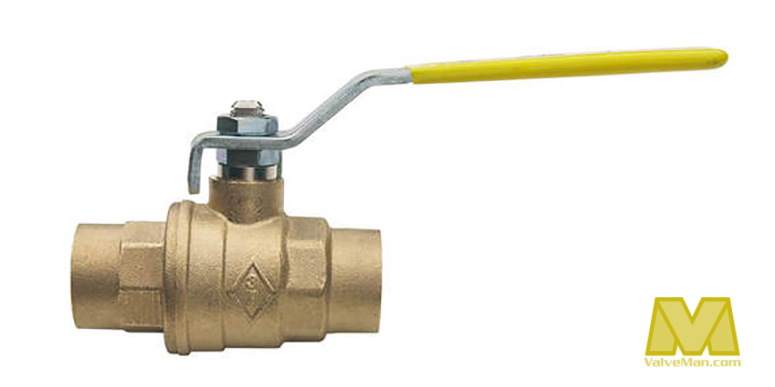 For the most part, all three valves are basically the same, and are capable of performing the same tasks. But there are differences in internal parts material and design, as well as weight, and working temp and pressure ratings, proving that all valves aren't quite the same. All three name brands, however, have been proven dependable, offering inexpensive, commercial grade products known for reliability and longevity. Choosing the one best suited for your application may come down to which brand you like the most.
If you found this article helpful, check out some of our other articles on ValveMan.