Posted by Daniel Pishock on Jan 20th 2016
The old adage, "you get what you pay for," is steeped in truth. It may cost a few extra bucks to buy a better part, but when you think of what you're really buying--peace of mind--the price difference won't seem so significant. If you're going to spend money, why not spend it on the very best you can afford?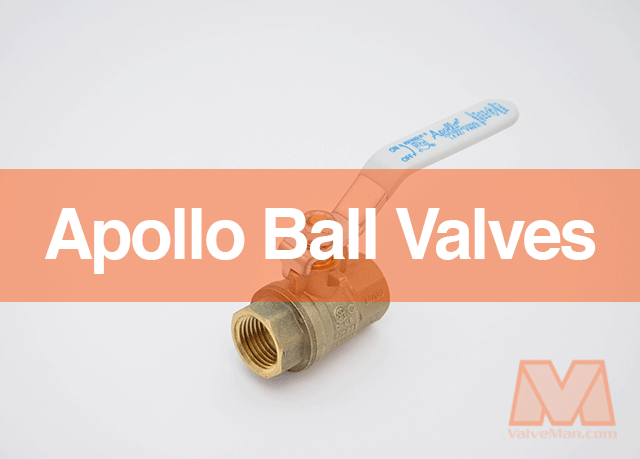 Apollo Ball Valves: Simply the Best
Apollo Valves prides itself on producing top quality parts. The Apollo brand itself was introduced to the market in 1968 with the Apollo Series 70 line. Since then, Apollo Valves has continued to revolutionize the commercial and industrial valve market through innovation and an open mind to opportunity. Originally known as Conbraco Industries, Apollo Valves has been leading the industry since 1928.
Lead Free Products: Apollo Valves has always met or exceeded the requirements of Federal regulations concerning lead content. Lead free ball valves are made in an ISO certified foundry right in South Carolina, and have been for over 10 years. Apollo Valves went green long before other manufacturers, and are committed to supporting a better environment.
Easy Installation: The struggle to produce solder-able valves made from lead free brass and bronze alloys has left some manufacturers scratching their heads. In the meantime, Apollo Valves introduced lead free brass and EZ-Solder bronze valves that do not require any special preparation, materials, extra heat, or the headaches associated with lead free.
Solid Construction: Every Apollo ball valve is made from high grade alloys, and milled or cast to the highest standards. Apollo's Contractor bronze series, for example, features blow-out proof stems, solid brass balls, premium, MTFE multi-fil stem packing and seats, and are available in full port (up to 2 1/2"). The legendary Apollo 70 series is always available, and still features RPTFE seats, and each ball valve features a blow-out proof stem, solid and/or plated ball, and are shock rated for 600 psig and 150 psig for saturated steam.
Options: Apollo ball valves are offered with a wide range of options, making installation and application problems solvable. (Covered in section J of Apollo Valves table of contents): handle, stem, seal, flange, ball, alloy, trim, and safety options, etc. may all be available in each ball valve series.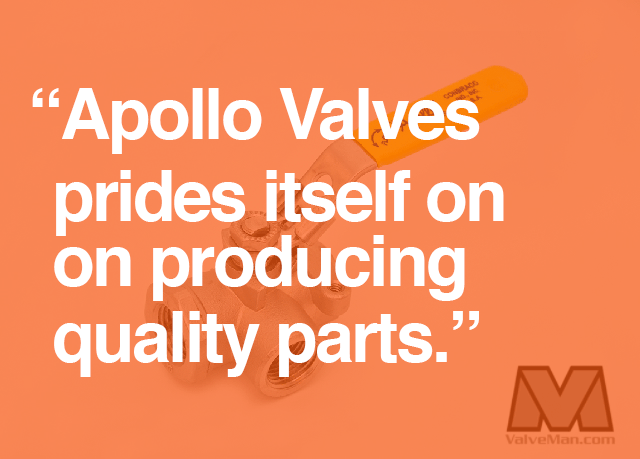 Backed by 80 Years of Experience
Apollo ball valves are backed by over 80 years of experience. That amount of time includes a good deal of effort invested in producing the finest quality valves and related parts, through research, innovation, and hard work. Centered in North Carolina, Apollo Valves manufactures almost every part exclusively in the United States--that includes two major facilities in South Carolina. Having earned a reputation for ingenuity in meeting the demands of emerging markets, Apollo Valves utilizes a vertically integrated manufacturing process to consistently produce a wide range of high quality valves and related products.
Shop Apollo Ball Valves
When it comes to valves, the ValveMan valve store appreciates experience. We know experience is reflected in product quality. We have over 50 years experience in the industrial valve business, and we are proud to carry Apollo Valves ball valves. Apollo ball valves may cost more than some other valves, but quality is worth it. We know a thing or two about quality in valves. That's because all we sell are valves, and we do it better than anyone else.