Posted by Daniel Pishock on Aug 31st 2016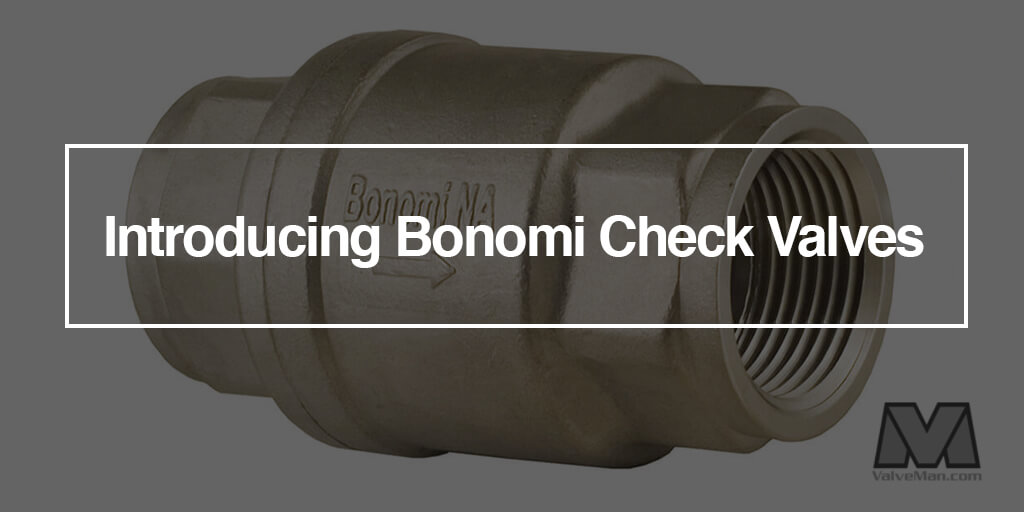 The advantage of the Bonomi valve brand extends to check valves, as well, and here's why you can't afford to overlook them. While a check valve would seem like a relatively simple, low-tech, and fool-proof valve, that's not always the case: factors such as cracking pressure--the amount of pressure required to open a valve--appear straightforward on paper, but can differ significantly in real life applications. Any check valve designed to open at 1/2psi (standard) may work great under a normal water supply rate, but may falter under low flow conditions. Bonomi, in their pioneering tradition, have taken such factors into account when designing and manufacturing check valves.
The Difference is in Design
At first glance Bonomi check valves look like any other, but there are significant differences to consider--particularly inside. A major point you should take note of is the snugness of a Bonomi check valve's disc assembly. Bonomi knows that the stability of the disc is crucial to performance and longevity; inferior designs often fail under low flow conditions--either intentional or accidental, depending on application--due to a phenomenon known as "wobbling."
Wobbling occurs in low flow conditions that see spikes and drops in flow pressure. Bonomi addresses this problem by utilizing tight tolerances between the stem guide and the stem, while many other brands do not. Another advantage Bonomi enjoys over the competition is superior disc material: Polyetherimide--a thermoplastic--is extremely abrasive resistant.
Bonomi Check Valves
Consider the following examples of Bonomi check valves:
Bonomi Type 100012 LF: This inline brass-bodied check valve (sizes start at 1/4") operates in either horizontal or vertical positions, can handle water pressure up to 400psi, and has a working temperature of 170°F. Threaded NPT connections. Lead Free designation; compliant with Safe Drinking Water Act.
Bonomi Type 100612 LF: Press system connections for quick piping assembly. Lead Free. Patented disc guide. Flow profile is designed to prevent head loss; spring loaded/fast seating; high capacity. Perfect for either low or high pressure flows. Exceptional corrosion resistance. Available in sizes 1/2" to 2" at 200WOG.
Bonomi Type 100712 LF: Lead Free, slim-bodied (2.40"X4") brass housing. Stainless Steel spring. NPT, sweat-end connections. Mount in either direction. Operating temperature of 170°F at a flow rate of 400psi/27.4gpm. NBR seats. Patented disc prevents side loading. Forged brass alloy is highly resistant to stress cracking. Good for either high or low pressure.
Bonomi S800: Stainless Steel housing compatible with saturated steam use (125WSP). Duel guided stem and disc. PTFE seats for tight shut-off; fast, spring-loaded seating. Threaded FNPTxFNPT connections. Advanced seating configuration for both high and low pressure applications. High capacity; designed to minimize head loss. Temperature operating range between 10°F and 150°F. Highly corrosion resistant--perfect for use with a wide range of chemicals.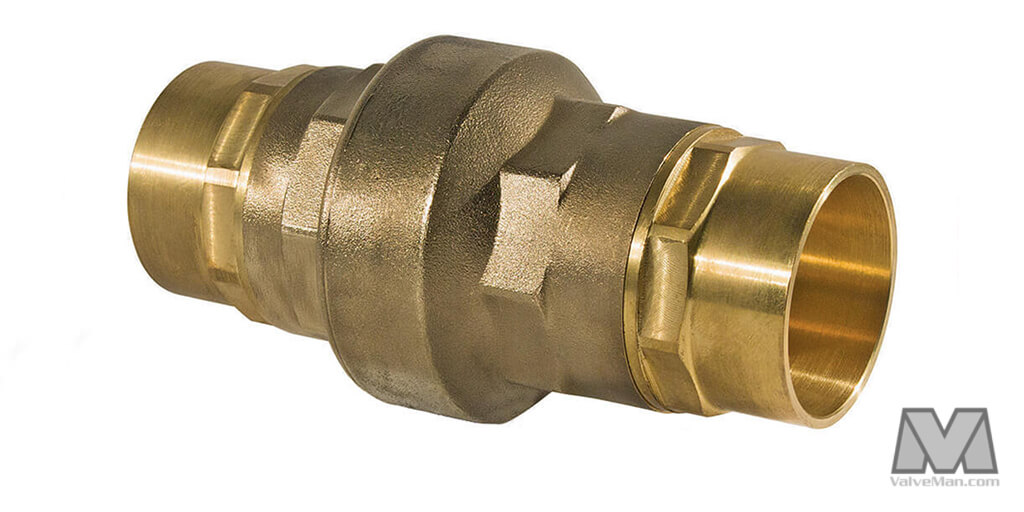 All Bonomi check valves utilize a standard cracking pressure of 1/2psi. But, unlike the competition, Bonomi check valves are compatible with, and perform superbly in, high or low flow conditions, due to elastomeric seating, interior dimensions, and a superior design which allows them to maintain optimal cracking pressure in any flow rate. Bonomi check valves edge out the competition by being versatile, making each valve the preferred choice for a variety of applications and flow rates.
Bonomi forged brass housings are free of bismuth, making them crack resistant and easier to install. If you found this introductory article about Bonomi check valves informative, and would like to know more about the Bonomi brand, please feel free to browse the following blogs: