asco valves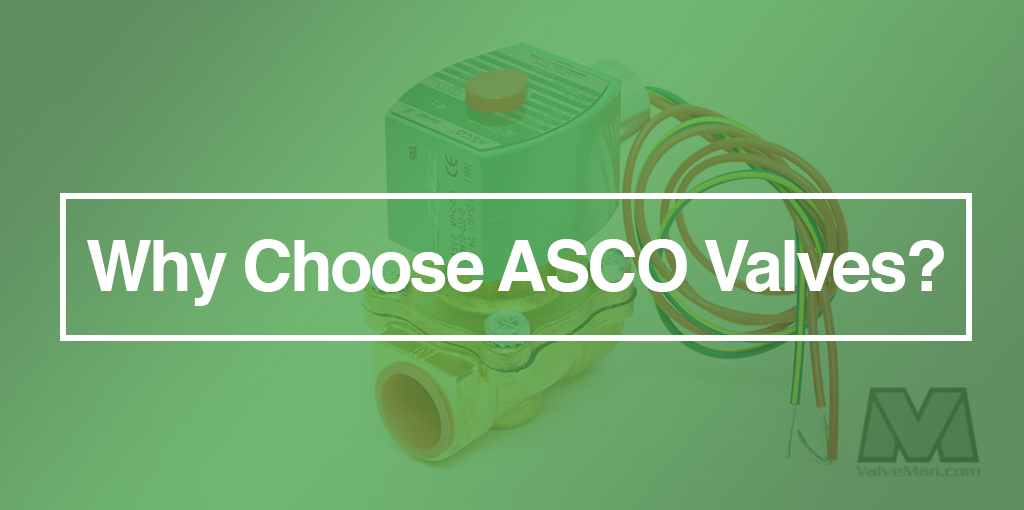 ASCO valves represent the highest grade in solenoid valve technology. ASCO valves have been designed and manufactured by a company that has been in the business since 1888, which has a proven track of creating some of the most advanced, superior valves on the market. The ASCO company originally devised and produced control systems for compressors, generators, and elevators. And, in 1910...ASCO made it's mark as an innovative design leader when the company created and introduced the world's first control device powered by electricity--the solenoid valve.
For over a century, ASCO Valves has continuously expanded its product line to meet and exceed an ever-growing demand for fluid control products tailored to the end-user needs and specifications of various industries. In the 1970s and '80s were also times of significant technological and fabrication advances in solenoid valve technology, marking the introductions of air-operated and manual reset valves, pressure and temperature switches, and the merging of independent technologies as the company advanced and grew, which ASCO valves took full advantage of.
The ASCO Valve RedHat Line
Today ASCO valves is well known for their RedHat line of solenoid valves. Nick-named for the distinctive red cap, these general service solenoid valves--available in 2-way, 3-way, and 4-way configurations--are available in sizes 1/8" to 3", can handle countless fluid control applications, and are either AC or DC voltage compatible. The ASCO valves RedHat line are offered in either brass or stainless steel bodies and feature watertight solenoid housings, and are also available in explosion proof housings.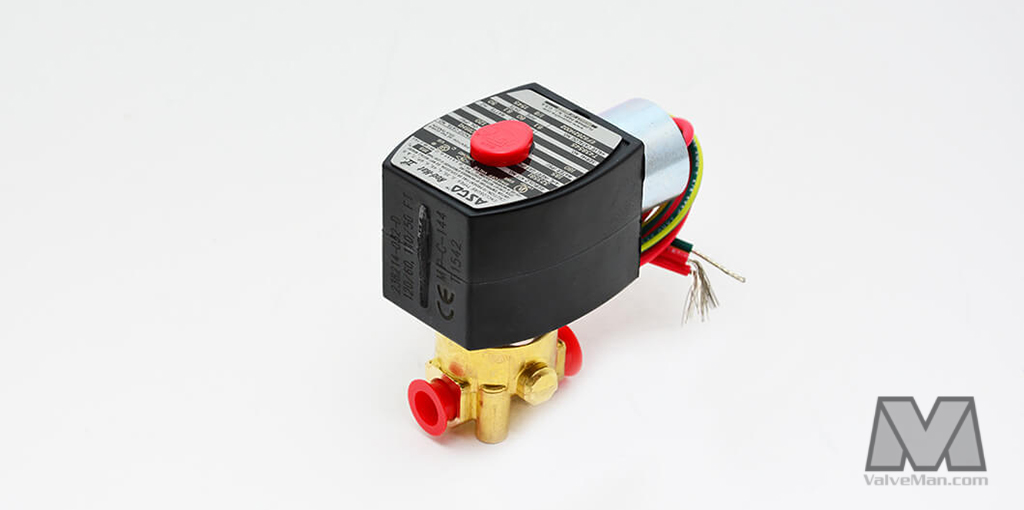 Some of the most popular among the ASCO valves selections are the following RedHat solenoid valves: the 8210, 8262, and the 8345. All three series models can be mounted in any position.
ASCO 8210: The ASCO 8210 is available in a wide range of pressure ratings and sizes, and features tough materials to prevent internal leakage. High flow configuration makes this valve ideal for liquid, gas, air, and corrosive applications (such as car wash, laundry equipment, and industrial water control). Nominal ambient temperature range-- AC: 32 degrees to 125 degrees Fahrenheit; DC: 32 to 77 degrees Fahrenheit. Features NBR or PTFE seals and discs, 302 stainless steel springs, 305 stainless steel core tube, and silver or copper shading coil.
ASCO 8262: Available--standard--with tapped mounting holes, this solenoid valve features a welded core tube, small poppet valves, NBR or cast UR seals and discs, and is ideal for high flow applications. Core and plugnut are 430F stainless steel. Nominal ambient temp range-- AC: -13F to 131 degrees F; DC: -13F to 104F.
ASCO 8345: Ideal for when low-flow is sufficient, this 4-way solenoid valve features a 305 stainless steel core tube, a 430F stainless steel core and plugnut, and a PA piston. Seals and discs are dependent on body material: NBR and PA for brass; FKM, PA, and UR for 316 stainless steel bodies. Nominal ambient temperature range-- AC: 32F to 125F; DC: 32F to 104F.
Purchasing ASCO Valves
It goes without saying, ASCO valves are on the cutting edge of solenoid technology, and they are readily available through the ValveMan valve store; your first choice in valve distributors for over 50 years. ValveMan highly recommends ASCO products as their versatility and superiority make it one of the best solenoid valves on the market today. ValveMan is major distributor of industrial and commercial valves, and have been in the business for over three generations.