Posted by Daniel Pishock on Jul 25th 2016
When selecting an Apollo Ball Valve for natural gas use, you'll most likely prefer a ball valve, and should consider only buying from a brand that is tried and true. The Apollo brand has been around since 1968, and is synonymous with innovation and cutting-edge technology. Why then--if you're looking for the best choice--would you choose anything less than an Apollo ball valve for natural gas?
Apollo Ball Valves
Natural gas service demands a no-leak seal, and Apollo ball valves deliver. Since the advent of the original Series 70 ball valve, Apollo has lead the global market in quality, reliability, and valve longevity, and has done so by manufacturing over 95% of its products--including the easily recognizable yellow handles--in the United States, boasting plants in both North and South Carolina. A division of Conbraco Industries, Apollo valves are backed by over 80 years of experience.
Selecting the best Apollo ball valve for natural gas is easy, as Apollo Valve offers a variety of valves, complete with numerous options, for any application. Apollo ball valves for natural gas applications are made with the same eye for detail and rugged construction as every other Apollo product--sturdy handles, blow-out proof stems, RPTFE seats, and ball and housing material are available options. Stem, seats, seals, trim, and alloys are all optional on almost every Apollo ball valve. Apollo uses the finest grade alloys, milled or fabricated to the most critical of standards.The Apollo ball valve for natural gas should be your first choice for natural gas applications. They are available in a variety of configurations, connection types, and port sizes. While lead content is not big a concern for natural gas valves, Apollo offers lead free valves that meet or exceed federal regulations, and has always been ahead of the curve when it comes to safety and innovation. Likewise, in states where codes allow copper tubing for gas lines, Apollo has made soldering simple by introducing the EZ-Solder bronze valve line that circumvents problems associated with lead free alloys, as well as the special preparations and excess heat previously needed.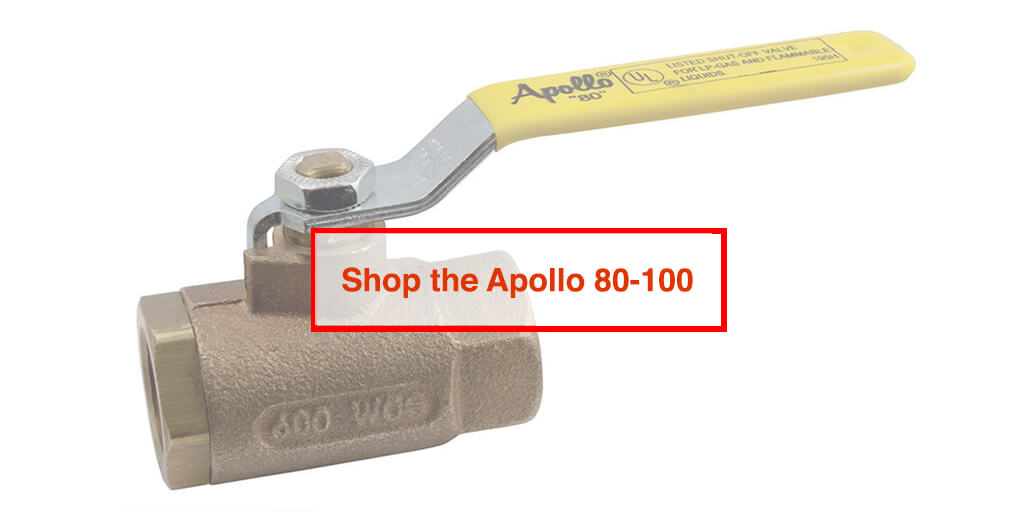 One of the Best Apollo Valves for Natural Gas
The Apollo 80-100 Series is easily one of the best bronze ball valves on the market that is specifically designed for natural gas applications. The Apollo 80-100 is UL Listed for LP- Gas, natural gas, and flammable liquid and heated oil. This 2 piece, bronze ball valve comes standard with a blowout proof stem and is designed to withstand a maximum pressure of 205 PSIG to temperatures up to 460F.
For natural gas, it's a natural choice. Considering Apollo Valve's experience in valve design and manufacturing, and considering the great reputation associated with the name and the famous yellow levers, it's the only choice when it comes to choosing the best ball valve for natural gas.
Shop These Valves on Our Site
[[RelatedProducts:2402,2550,2541]]
Where to Buy
Just as Apollo should be your number one choice for natural gas applications, the ValveMan.com valve store should be your first choice in valve suppliers. We sell industrial grade valves, and have been in business for over 50 years. We sell a large selection of Apollo ball valves, including ball valves designed for natural gas and other WOG ratings. In fact, all we sell are valves. It's simply what we do, and we do it better than anyone else.