Posted by Russ Bailey on Jun 21st 2023
Unlike the standard ball valves, most gas ball valves are tested and approved by CSA. These valves are vital for combustible gas service in different industrial applications. They are used in natural gas, manufactured gas, and liquefied petroleum gas pipelines.
What is gas ball valve?
A gas ball valve is a quarter-turn flow control device that is designed to offer better performance, shut off and sealing characteristics than the conventional ball valves. Unlike high pressure, high temperature, water service ball valves, gas ball valves adopt a compact and lightweight valve body design that increases their versatility, making them suitable for different applications.
Gas ball valves are predominant in applications and piping systems conveying combustible fluids like hydrocarbons, liquefied petroleum gas (LPG), natural gases, and chemical vapors. These valves are also ideal for boilers, furnaces, gas stoves, residential and commercial water heaters.
Flow control applications relying on gas ball valves operate under high pressure and temperature. Given the combustible nature of most of the working fluids, it is vital to prevent leakage at the valves. Sealing and protection against fugitive emissions rely on the metal-seated gas ball valves or PTFE seats.
The benefits of using gas ball valves for different industrial applications are:
Excellent shut-off characteristics — The valves open and close quickly in response to pressure conditions of the pipeline. It is vital for preventing backflows and contamination.
Versatility and efficiency — Gas ball valves have a compact design that fits into different industrial applications. They operate at low torque and require simple actuation mechanisms.
Durability and easy maintenance — These valves provide excellent flow control throughout their service life and demand minimal maintenance interventions.
1) CSA ratings and gas ball valves
Before using gas ball valves for combustible fluid service, they require approval from Canadian Standards Association (CSA). The association rates the valves based on application areas and country-specific requirements. CSA is accredited by several US regulatory authorities including the Occupational Safety and Health Administration (OSHA) and the American National Standards Institute (ANSI).
Valves bearing CSA ratings can be used in different industries across the US. According to the CSA ratings, gas ball valves designed for outdoor fluid applications in the USA bear the BRS125G-rating and CAN 3.16 in Canada.
For indoor applications, the CSA ratings are the same for the USA and Canada. Any ball valve bearing the ½ PSI and 5G- ratings are strictly used for indoor gas applications. The ½ PSI rating indicates that the installation location of the valve is on the appliance. Household piping systems use valves bearing the 5G rating. Indoor gas systems operate at a lower pressure when compared with outdoor piping systems.
CSA 3.16-15 standards apply to all lever-operated gas shut-off valves. These are metallic gas ball valves that are manually operated and contain flanged, threaded, or welded ends. Their service temperatures range between -1048°F (-600°C) and 3272°F (1800°C), while their maximum pressure limit is 125PSI. These valves are suitable for natural gas, liquified petroleum gas, and manufactured gas service.
Valves under the CSA 3.16-15 ratings can be used for methane gas service in sewage treatment plants. However, they are likely to suffer from the negative impacts of contaminant accumulation around the valve body. Gas ball valves are unsuitable for use in piping systems with traces of hydrogen sulfide (sour gas).
Related products
---
[[2402,2550,2541]]
2) Special features of gas ball valves
For the efficiency of fluid flow applications, it is necessary to control and monitor fluid pressure. Gas ball valves are equipped with pilot taps for fixing pressure gauges. With these gauges, operators can monitor the pressure of the piping system and perform pressure tests. Fixing the pressure gauges at the valves guarantees accurate pressure control in the system to facilitate the safety and consistency of gas applications.
Gas ball valves have standard pilot taps in the form of ⅛" female pipe thread or female pipe taper (FPT). The pilot taps come with a ⅛" tapering male pipe thread plug that is tightened to prevent leakages.
Several manufacturers use yellow handles on the valves for identification purposes. Though this is not a standard visual indicator, it is a quick way for buyers to identify ball valves that are approved for combustible gas service. When selecting gas ball valves, do not just rely on visual indicators. Confirm that the intended piping requirements match the CSA approvals and ratings.
3) How to test a gas ball valve
Gas ball valves are used in applications with varying temperature and pressure ranges. For the safety of operations, the valves are subjected to rigorous air tests to establish their efficiencies at different operating conditions. According to CSA standards, gas ball valves are tested to withstand 1.5 times their rated valve pressure. Gas ball valves with the CAN 3.16 approval are designed for higher pressure ratings. In some cases, they may be exempt from pressure tests.
The following are gas ball valve ratings and the accompanying test pressures in PSIG (Pounds per square inch gauge)
CAN 3.16 rating — test pressure is 125PSIG
BRS125G — test pressure is 188PSIG
½ PSI — test pressure is 3PSIG
5G — test pressure is 7.5 G
Each gas ball valve has a specific CSA approval rating. However, it is common to find valves with the same CSA ratings having different pressure and temperature ratings. Valves meant for industrial processes with extreme temperatures/pressure may require modifications and additional tests to meet the minimum CSA approval requirements.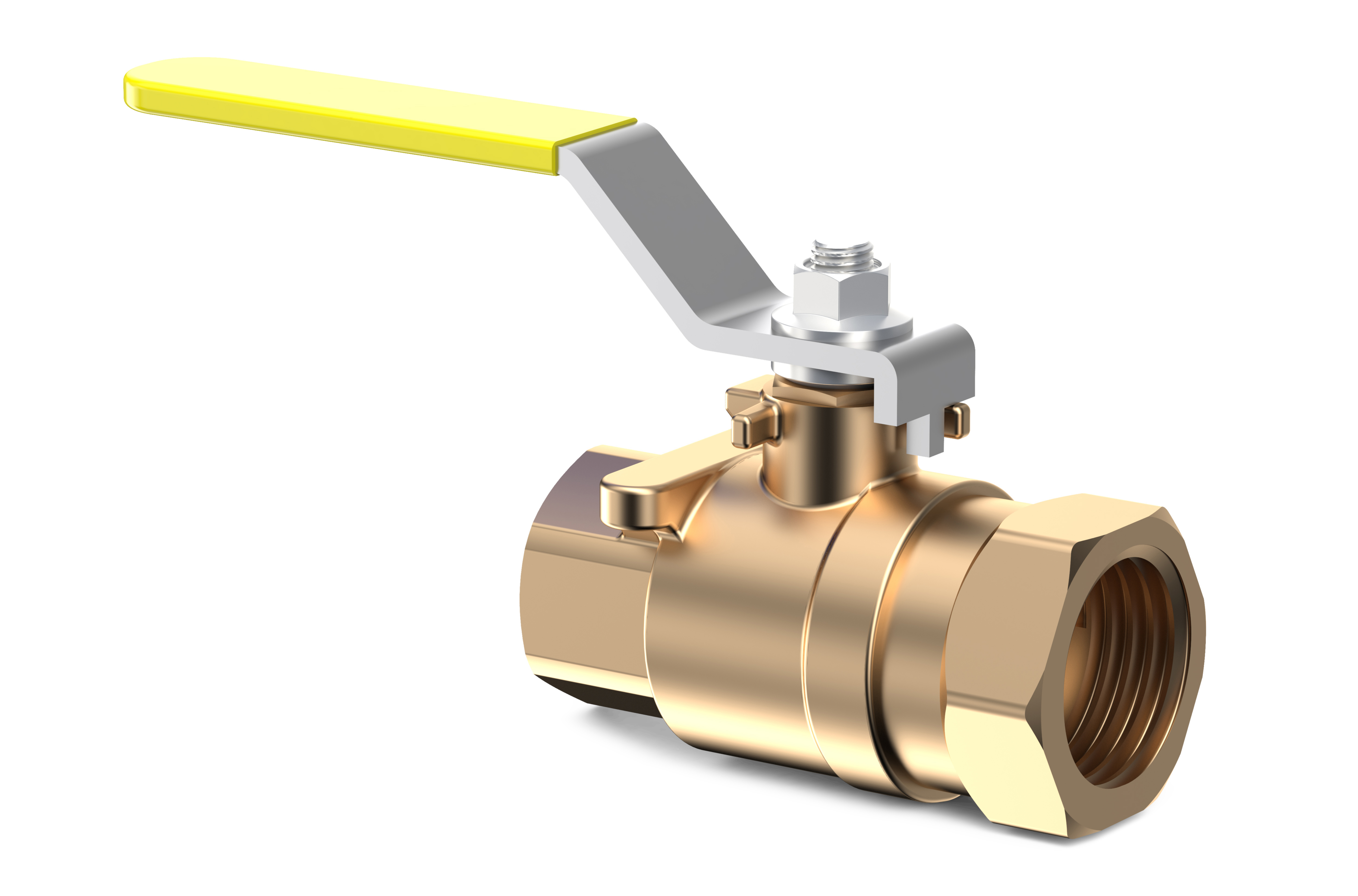 4) Types of gas ball valves
Gas ball valves have different constructions to suit their application areas. Piping systems for natural gas service, supply of clean gases or compressed air use fully welded ball valves. These valves have a compact design, are easy to insulate, provide bi-directional tightness, and are designed to be maintenance-free. Such ball valves are fabricated using high-strength materials, have spring-loaded PTFE seals and O-rings for maximum sealing.
Processes in which the working media should be fully open or fully closed use gas ball valves with flanged and welded ends. They are in sections like heating pipeline crossings or heat exchanger stations.
When selecting gas ball valves, consider the installation areas. Are the valves intended for indoor or outdoor usage? After that, select the appropriate size that will meet the desired process parameters.
5) Gas ball valve selection criteria
When selecting a gas ball valve for any industrial application, identify the performance requirements of the system. It will include factors like flow rates, pressure, and temperature ranges. Identify the chemical characteristics of the service medium. Piping systems with traces of sour gas will use gas ball valves with PTFE seats due to their inert nature against chemicals, unlike metal-seated valves that are likely to corrode under similar conditions.
Gas ball valves selected for critical gas pipelines should be easy to maintain or demand minimal maintenance interventions. The quantity of abrasive media and contaminants in the piping system should be minimal to prevent premature valve damage.
Summing up
Gas ball valves provide an affordable and often ideal solution for combustible gas service in different industrial applications. Their application is guided by CSA ratings and approvals that guarantee safe usage under varying process conditions.
Need guidance in determining the appropriate gas ball valve for a specific application?
The experts at ValveMan have the knowledge and experience to help. Shop ValveMan.com today!