True Union Ball Valves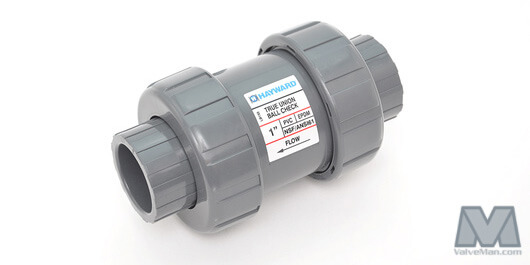 Just what is a True Union Ball Valve? Most of us are familiar with an ordinary, general purpose ball valve, but do you know what makes one a true union? The answer is simple, but deserves a thorough explanation. First, however, let's reacquaint ourselves with a basic ball valve configuration.
Ball Valves
One of the greatest innovations of all time, the ball valve enjoys enviable supremacy in the world of valves. This is due to its inventive use of a metal sphere, bearing a bore through its center: when the bore is parallel with the inlet and outlet ports, the valve is open, and the media may travel through, and when the bore is turned, the media is halted. The sphere itself is snuggled tightly in the center of the main housing, creating an almost fool-proof seal. Most 2 way valves are of a one piece construction, but many designs, for various reasons, incorporate two and three piece configurations, and this is where we can observe and understand just what a true union ball valve is.
True Union Ball Valves
For all practical purposes, the term, true union, is typically applied to three piece ball valves utilizing a thermoplastic housing. It's unique, three piece construction allows for the removal or replacement of the valve's housing without disturbing the end connections. As can be seen in these examples from Hayward, a three piece valve employing end pieces that thread to the main housing can be quite handy, especially in PVC or other plastic applications. Regardless of how the valve is connected with a piping system, whether it be glued, socketed, or threaded, its main housing can be removed via threaded connections without disturbing the integrity of sealed ends.
The big advantage of true union ball valves, then, is their versatility in function. Being able to remove the main housing allows for easy inspections, cleanings, repairs, and replacements, and to do any of these tasks quickly, and with minimal aggravation to the line. This quick-disconnect system will save you from headaches down the road if there is ever a problem with your piping system--this was the original purpose of the three piece ball valve configuration. As an example, true union ball valves are perfect for any type of PVC piping system that incorporates a crafted multi-port manifold where the flow of different medias must be controlled. Without the use of true union ball valves, removing just one flow control valve could necessitate dismantling the entire manifold, which might be expensive and time-consuming. And, of course, depending on applications, these sort of manifolds, or any type of diversion including a valve in a line, are rarely located in a convenient and roomy location when maintenance is needed. The added advantage of a true union is a luxury you can really appreciate.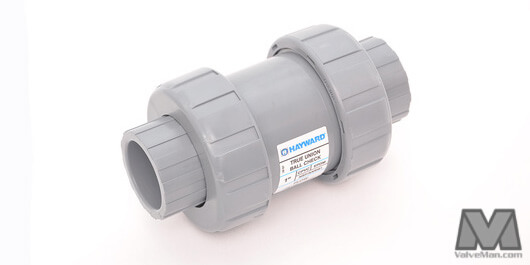 Where to Buy True Union Ball Valves
If your project requires the installation of true union ball valves, we have a great selection from which to choose right here at the ValveMan valve shop. As you know, we've been selling industrial grade valves for over 50 years, and we highly recommend Hayward true union ball valves and ball check valves.
Do you need more information valves? We think you might like reading about another valve configuration variation, the Difference Between T-Port Vs. L-Port, as we aim to keep you, as all our customers, educated and informed about everything in the valve world.